Over the past 10 months, I've had the honor of coaching Tomás Roca. Our initial encounter took place on the winners' podium at a triathlon event in Groningen. Despite being a newcomer to the triathlon world, Tomás showcased remarkable potential.
Tomás had already achieved success by completing numerous sprint and quarter-distance triathlons over a span of two years. However, Tomás decided to aim higher and set his sights on a more challenging goal: participating in his first half-distance triathlon in Almere.
Tomás approached me during one of our training sessions, where we reunited at our triathlon club, GVAV Groningen. He expressed his desire for assistance in preparing for this ambitious objective. Tomás possesses an innate drive and a knack for charting his own course. His unwavering discipline and well-defined objectives became the bedrock upon which we crafted a comprehensive plan.
This plan has the potential to be an invaluable resource as you embark on your own journey toward race day. The path leading up to race day is laden with numerous considerations, and Tomás's blueprint for the upcoming event stands as a stellar guide to navigate this transformative experience. Below, you'll find a summary of his preparations as we approach race day.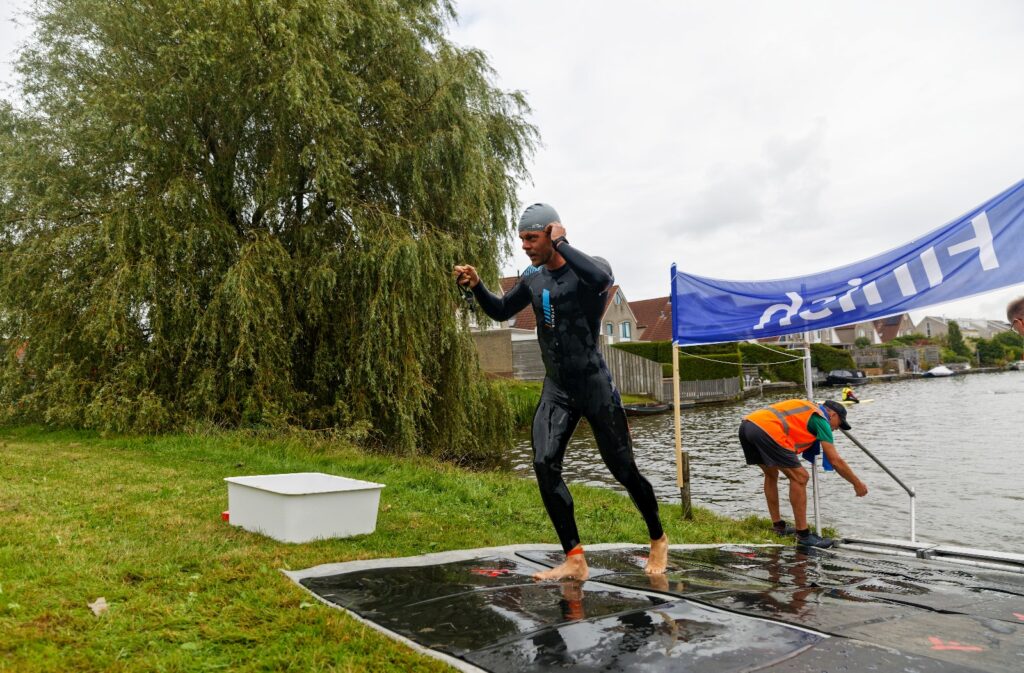 The blueprint for succes
Tomás tells: My journey began in November last year when I teamed up with Jouke, who has diligently crafted weekly training plans ever since. These plans have been meticulously designed to prepare me for the Challenge Almere half-distance triathlon.
Over the past months, I've dedicated 6 to 12 hours per week to training, with a heightened focus during the last 14 weeks leading up to September 9th.
Now, after putting in the hard work and leaving no stone unturned in our preparation, I'm eagerly anticipating the event on Saturday.
In terms of weather conditions, it appears we can expect temperatures ranging from 21°C to 29°C with sunny skies and a wind at force 2 from the north.
This forecast is notably warmer than the conditions I've trained in, presenting an additional challenge. Additionally, should water temperatures exceed 24°C, the use of wetsuits won't be allowed. While this might slow down my pace, it could potentially provide me with an advantage over other participants (in my opinion).
Lastly, regarding my goals for the race:
A Goal (in an ideal scenario): I aim to complete the race in under 4 hours and 50 minutes.
B Goal (based on my training): I aspire to finish within 5 hours.
C Goal (in case things don't go as planned, but would still make me happy): my primary objective is to complete my first-ever half-distance triathlon.
The Swim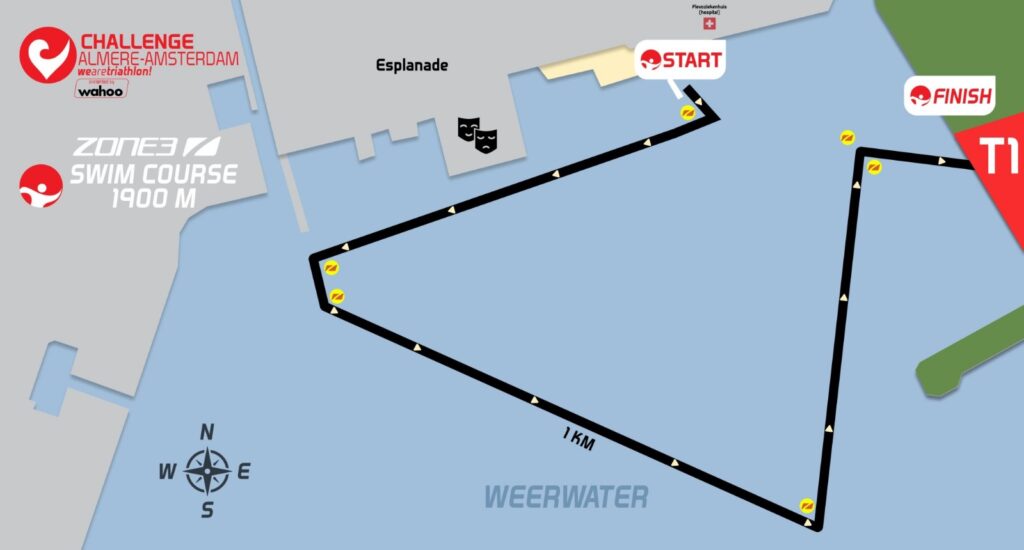 I'll commence with a 1.9 km swim, aiming to complete it in approximately 32 minutes, maintaining a pace of around 1:40 minutes per 100 meters.
The initial transition, also referred to as T1, involves transitioning from the swim to the bike leg. This entails removing the wetsuit, preparing for cycling, navigating the park fermé with the bike until crossing the line to mount it; based on last year's averages, this transition should take between 3 to 4 minutes.
The Bike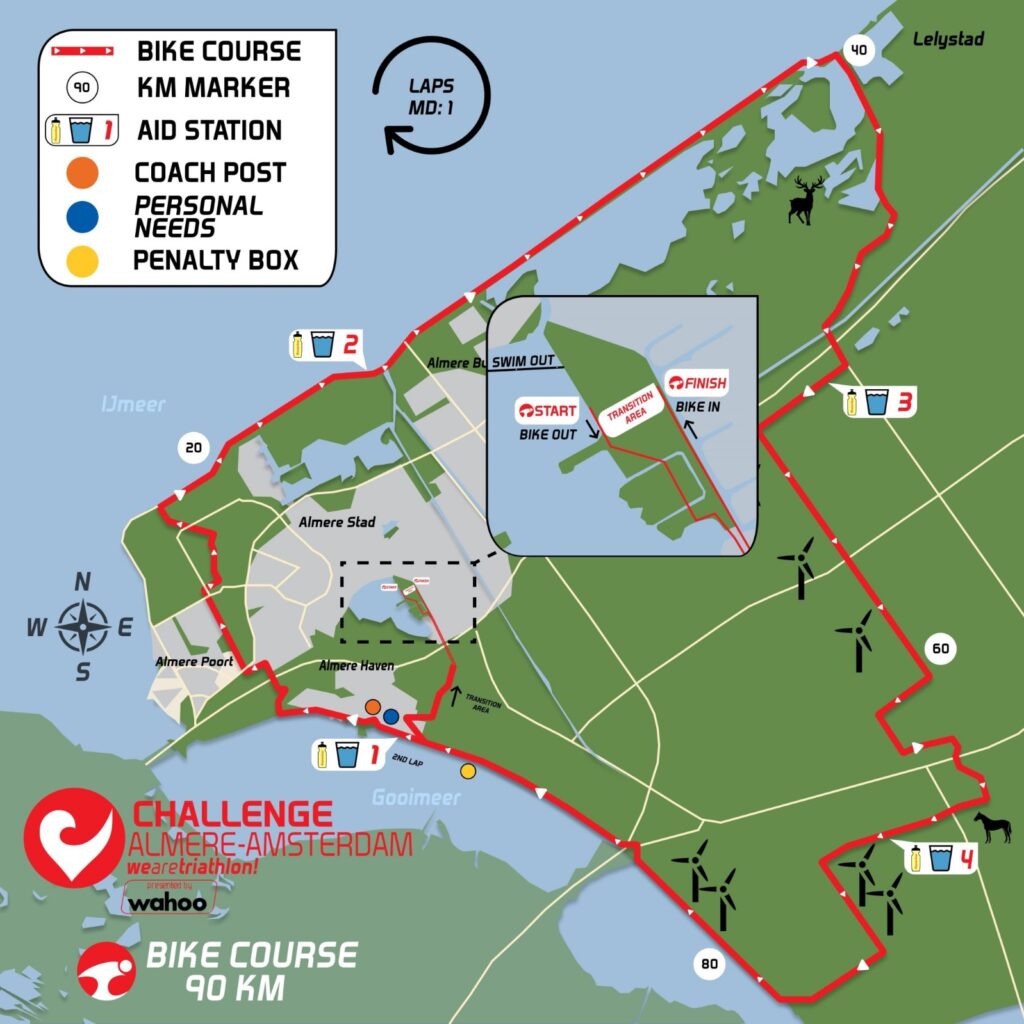 Moving on to the bike course, a single 94 km loop traverses reclaimed Flevoland land, predominantly featuring flat stretches with a long stretch on the dike along the coast. I'm targeting an average speed of at least 35 km/h. Should I be able to add an extra 1 or 2 km/h to the average, it would give me a more comfortable buffer for the run.
This would result in an estimated time of 2 hours 43 minutes. However, the cycling portion's duration is significantly influenced by wind conditions, so we will have to wait and see.
The second transition, or T2, involves switching from the bike leg to the run leg. This includes dismounting the bike, re-racking it, changing into running shoes, and embarking on the final phase of the race. For T2, I've also allotted an estimated 3 to 4 minutes, although T2 typically proves quicker than T1.
The Run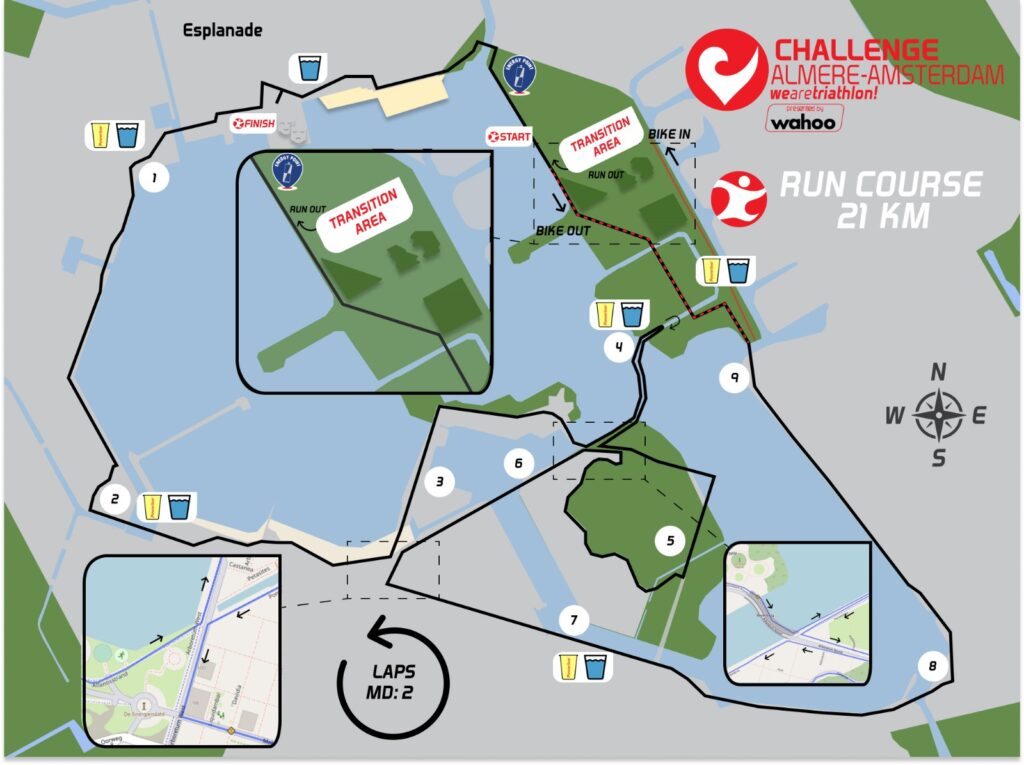 The running course encompasses two 10.1 km loops (and 900 metre return to the finish), totalling 21.1 km (half marathon distance). It's challenging to predict my running pace after exerting myself for 3 hours and 15 minutes.
A conservative estimate is 5 minutes per kilometre, but I'm hopeful that, under ideal circumstances, I can achieve a pace of 4:30 to 4:40 minutes per kilometre, resulting in a finishing time ranging from 1 hour and 35 minutes to 1 hour and 46 minutes.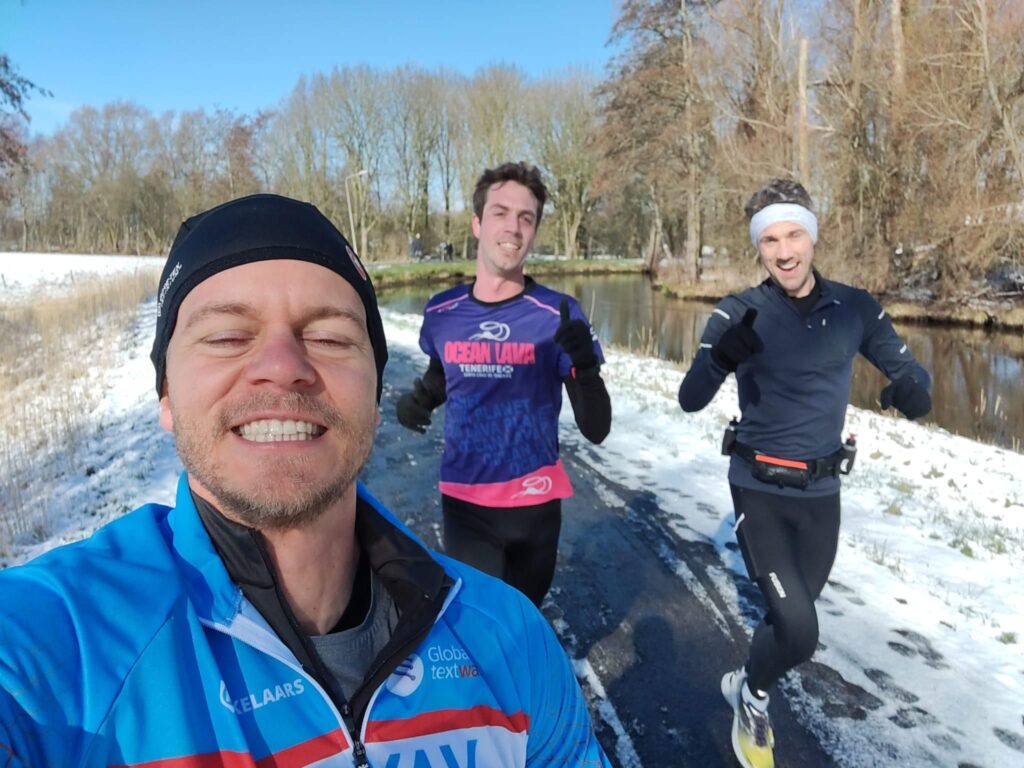 This photograph captures Tomás, my brother Hans, and me (Jouke Janze) during a winter training session, where the triathlon preparations were already well underway. An amusing detail to note: my brother is sporting the Ocean Lava Tenerife triathlon finisher shirt, while Tomas grew up in Tenerife!